Web Accessibility: The Basics
the point
Web accessibility is about digital inclusion for people with disabilities. It is the right thing to do, reaches more people, and is the law! We use accessiBe to bring accessibility to our clients. Is your website compliant?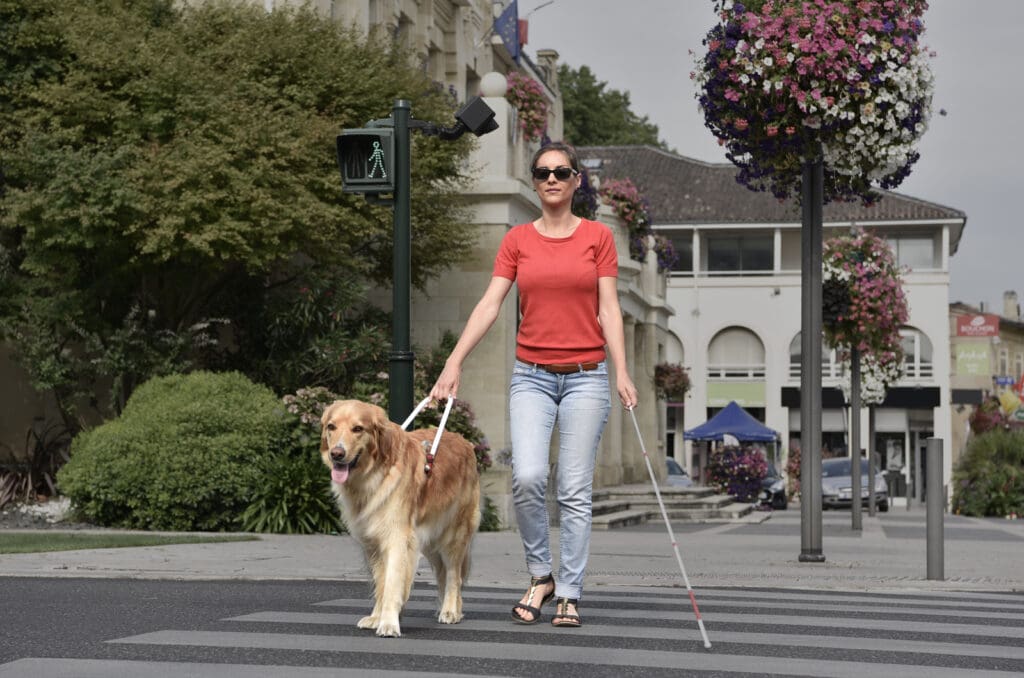 what is web accessibility?
"Accessibility is an experience." – Michael Hingson, CVO, accessiBe
Web accessibility is still a relatively new concept. Most website experiences are altogether inaccessible for users with disabilities. Although, many websites have a generally lackluster user experience to begin with. About 26% of adults in the US have a disability! These people deserve inclusion in the experiences and opportunities that the rest of the population enjoys (or takes for granted). You may already be familiar with some forms of accessibility:
ramps

crosswalks with auditory cues for safe crossing

closed captions for videos

sign language interpreters at events
Web accessibility is about expanding those efforts to the internet for digital inclusion.
To achieve this, the W3C (The World Wide Web Consortium) created the Web Content Accessibility Guidelines 2.1 (WCAG 2.1). Governments worldwide have adopted these guidelines. As a result, they are now a part of various legislations, such as the ADA and Section 508. The WCAG focuses mainly on three areas of accessibility: 
Blind people using screen-readers (JAWS, NVDA).

People with motor impairments who use only keyboards.

Adjustments to UI and design (color contrasts, animations, fonts, etc.) are required for other disabilities:

Color blindness

Epilepsy

Minor visual impairments
"The entire process is automated from remediation to becoming compliant."
why should you care about accessibility?
Three simple reasons:
Because it's the right thing to do. Everyone deserves to be able to access and use your website. 
Digital inclusion means you can reach more people. So it's actually beneficial to you and your business!

If those reasons aren't enough for you, then there's

legal compliance

.
According to the Americans with Disabilities Act (ADA), every business website has to be accessible to people with disabilities. The law prohibits discrimination based on disability by places of "public accommodation." That includes websites and brick-and-mortar facilities. People with disabilities, specifically those who are blind or visually impaired, have been filing lawsuits against businesses over web accessibility issues. And many of them were winning.
Assuming you want to avoid a lawsuit, reach more people, and do the right thing, contact us now about creating an accessible website.
😉
how do we make websites accessible? 
Manually applying WCAG guidelines is very time-consuming and labor-intensive (read: expensive 💸). Because of this, it is an unsustainable option for most websites.
That is why we partner with accessiBe. They are the leading AI-powered web accessibility solution. Their tool makes websites accessible to people with disabilities and compliant with accessibility legislation. By using AI and automation, accessiBe significantly reduces costs and time, making web accessibility achievable for all businesses.
☝️
In up to 48 hours, accessiBe scans, analyzes, and fixes accessibility compliance gaps. The interface allows people with disabilities to adjust your website according to their needs. After the initial remediation, accessiBe will re-scan and re-analyze your website every 24 hours to maintain ADA and WCAG compliance within any new content.
For the majority of users, accessiBe will not change a thing. It will only be activated when turned on via the interface (or a screen-reader) as an overlay to your website and only to the user's specific session. Therefore, accessiBe won't affect your design, UI, or performance at all. The entire process is automated from remediation to becoming compliant. Additionally, the tool doesn't collect user data, so your GDPR compliance is unaffected.
We understand the importance of web accessibility and are genuinely impressed by accessiBe as a technology solution and business with strong values. That is why accessiBe is part of our core technology for client websites, alongside Termageddon for website policies and hosting by Flywheel.